Dog/Actor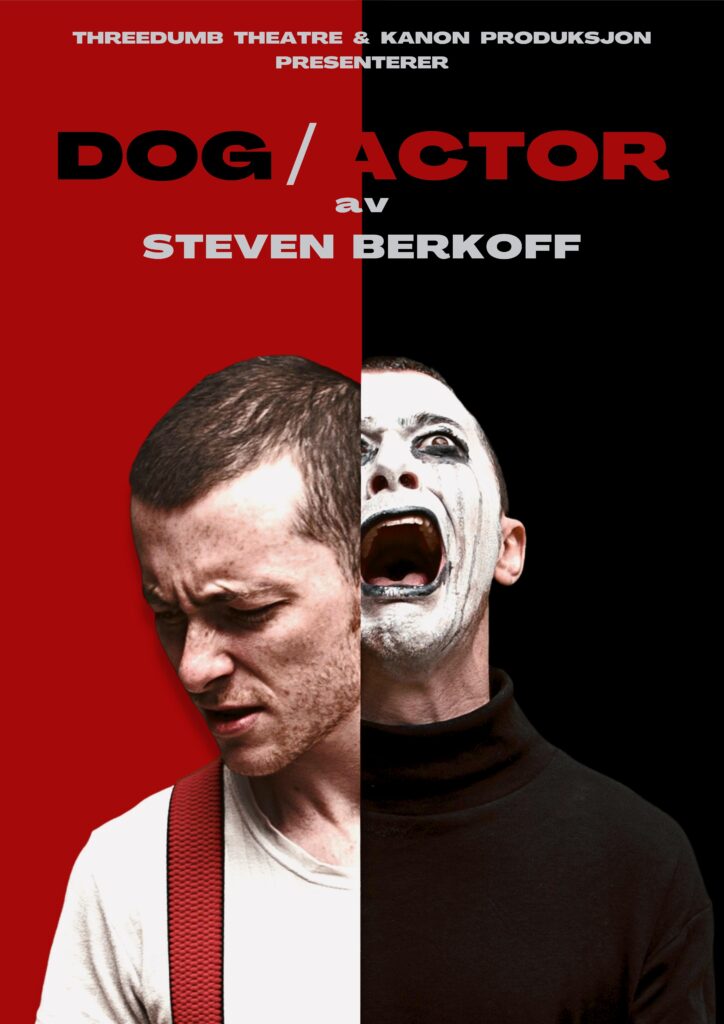 Dog/Actor
by Steven Berkoff
DOG/ACTOR consists of two short, explosive, and comedic plays written by Steven Berkoff.
DOG is a brief depiction of a day in the life of a football hooligan and his aggressive pit bull terrier Roy, which changes his life. The play explores the idea of masculine anxiety and toxic masculinity through skinhead culture and football hooliganism and serves as a metaphor for toxic masculinity in general, found in both smart suits and bovver-booted boys.

ACTOR is a spoken-word monologue that explores paranoia and jealousy in the acting industry, depicting the challenging life of an artist struggling in a humorous and poignant manner. The actor in the play, dressed in black with a bleached face, uses a loop pedal to create sounds and an inner monotonous heartbeat as he meets other actors on the way to auditions. Repeated rejections build up his frustration, and he becomes increasingly explosive and psychotic, as his mask gradually melts away. The actor's failure is painful, but fascinating to watch.

Kanon Produksjon collaborates with Threedumb Theatre across borders to bring this exceptional production to Norway for the first time. English actor Stephen Smith stands alone on stage and presents DOG/ACTOR without the use of scenery or props. The plays are performed back-to-back, providing the audience with a masterclass in physical theatre and comedic storytelling.
Cast
Reviews from previous shows
"An exceptional example of Berkovian theatre … Original, entertaining and one to watch. Stephen Smith is a hurricane of talent and his delivery of Dog/Actor is not to be missed."
EVERYTHING THEATRE ★★★★★
"A flawless showcase of mime & physical storytelling"
Fringe Buscuit ★★★★★
"Very physically demanding, and left the audience wanting more"
London Theatre 1 ★★★★
"Dog / Actor is a simple equation: 1 actor + 2 plays = a triumph of the theatre of imagination… An explosive, exhilarating hour of pure theatre"
The Recs ★★★★★
"Tour-de-force… Riveting and stylish… There is plenty in Smith's performances which you cannot find in Berkoff's words. What you will take away from Dog/Actor is Stephen Smith's inimitable talent."
Broadway Baby ★★★★★