Bound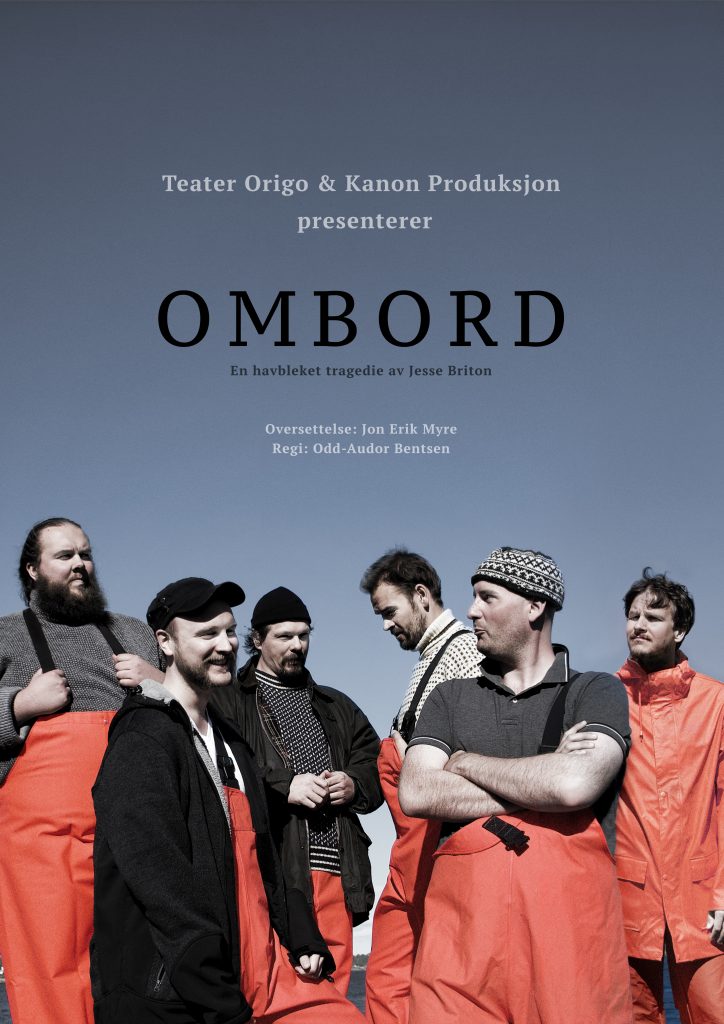 Bound
by Jesse Briton
translated by Jon Erik Myre
BOUND is a sea-bleached tragedy of maritime decline told with traditional sea shanties. The story follows six fishermen as they embark on a dangerous, but crucial voyage. The crew defy bad weather, friendships, and their relations ashore. Compelled by the threat of bankruptcy, ageing fishing trawler 'The Violet' is forced out into treacherous waters to try and save everything the crew hold so dear.
The story starts the morning after they've gotten back ashore. The Violet, the only remaining fishing trawler in Captein Bergs fleet, is docked, and the crew turn up one by one to collect their cut of the profits. After a long time out at sea they're finally about to take a well-deserved holiday, when they're met with the news that the largest regional distributor is bankrupt. The Captain has been forced to sell off the load with a deficit as to not lose it all. While other crews are licking their wounds, the men aboard he Violet reluctantly agree to go back out, in a desperate attempt by the Captain to save the company and himself. In the midst of it all is Kerdzic, a polish work-immigrant, sent by the employment company on Captain Bergs request. He came to Norway with his brother, but is now left behind in unknown territories, and in an environment with strong prejudice towards him and his agenda. Several members of the crew look at him as an enemy, as well as a sign that their safety in a dying industry is in jeopardy.
We follow The Violet's journey, whilst the frustration among the crew aboard continues to grow. The camaraderie that once stood strong, is now beginning to crack. Kerdzic is on the outside, looking in on a crew that's lost to the times. A shimmer of light shines as their nets are full of fish. The crew is filled with joy and a hope that they can achieve what the set out to do. But the journey isn't over. In a desperate rush for redemption, the Captain steers the ship right towards the eye of the storm.
The performance is a co-production with Teater Origio, and is done in collaboration with playwright Jesse Britons theatre company Bear Trap Theatre Company.
Cast
Reviews
"Home run – life hits like a wave in this depiction of navigation and choice of route, in a beautiful union or eternal chaos if you will! I'm already looking forward to the next project!"
– Silje Aas Meyer
"Bravo – a beautiful experience at the last show!"
– Nina Feste Bajraktarevic
"Very happy to have caught the last show this evening! What a bunch of talented people we have in our region! Keep going, I want to see more!"
– Ann Ingrid Fuglestveit-Mortensen