Helene Solberg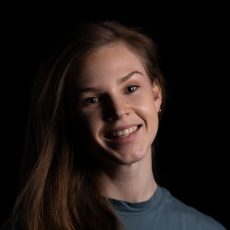 Helene L. Solberg
Actor and playwright
Helene is an actor from Bærum, based in Oslo. She studied drama at Rud upper secondary school, before spending a year at a foundation course in theater in Oslo. In 2018, Helene completed her education at the Theater Academy in Trøndelag (Nord University) with a bachelor's degree in acting and theater production.

Since 2018, Helene has completed three seasons as an actor in Kristiansand Zoo, where she's played Klatremus in Hakkebakkeskogen Filmstudio, Klara at KuToppen and Lemur in Safari Camp. In the summer of 2020, Helene was also part of Captain Sabertooth's Pirate Night, as a "walking actor".

In Oslo, Helene works freelance as an actor, and has worked with the development of the script for KISSED, in collaboration with UNGE VIKEN Theater, co-actress Nora and dramaturge Linn Meyer Kongshavn. In 2022, Helene will be seen in SULTN, a new Norwegian musical that will be shown during the festival Musikaliteten.

Helene plays the role of Kaja in KISSED, in addition to having written the script together with Nora G. Svalheim.