Madeleine Røseth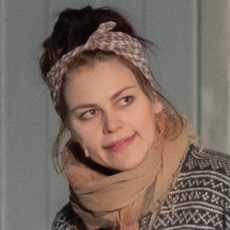 Madeleine F. Røseth
Actor and playwright
Madeleine is an actor and singer from Askim with a bachelor's degree from the 'theater production and acting' course, Nord University (08-11). She has experience from film, theater, musicals and concerts, and has worked at Haugesund Theater, Akershus Theater, Nordland Theater and in several different theater groups, like Theater play pieces, NIE and Holte and Tussilago productions.

She's also been employed by the French theater company Philippe Genty, and toured the world with the performances Forget me not and Paysages Intérieurs. In 2015, she produced the soaréconcert Piaf and Paris which was played both within The Cultural Schoolbag and at various concert arenas in Eastern Norway. In 2019, she played the role of Anna in The Birds at Nordland Theater and could also be seen in the performances Troll – The Battle of Hallingdal i Ål, The Trial of the Wøyen Boys i Bærumspillene.
Madeleine played the role of Mrs. Voie in CHRISTMAS AT WØYEN, in addition to having written the script together with Jon Erik.