Jon Erik Myre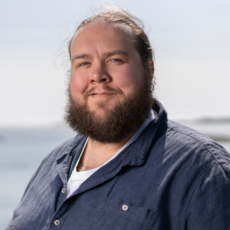 Jon Erik Myre
Artistic director, producer,
playwright, composer and actor
Contact info:
jonerik@kanonproduksjon.no
+47 991 63 607

Visit Jon Erik's website

Jon Erik on IMDb
Jon Erik has worked as a freelance actor, singer, musician and caster since 2012. He was born and raised in Kristiansand, and has his acting background from the youth theatre in the city. Jon Erik has contributed to several productions in his hometown, among other things as Pål, a member of the Soldiers of Odin, in Kilden Theatre's original production of Anne Frank's Siblings – a highly topical performance about the refugee wave. He also has seven seasons behind him in the Captain Sabertooth Universe in Kristiansand Zoo, and two performances of Birkebeinerspelet, which was played outside during the winter at Sjusjøen. Myre could also be seen on the TV screen, most recently in the Netflix series The Lørenskog Disappearance and Post Mortem – No One Dies in Skarnes, in Everything you love on Discovery+, and previously in the HBO series Beforeigners and Welcome to Utmark. He also recorded scenes for two new series premiering in 2023.

In the summer of 2019, he played Otto in Kanon Produksjon's first performance, THE TERRORISTS, and Director Hermanrud in The Trial for the Wøyen Boys. Before Christmas, Jon Erik played for the third year in a row in Natt i Nisseland, both at Chat Noir in Oslo, and on tour around Eastern Norway. In addition, he repeated the role of Hermanrud in the new performance CHRISTMAS AT WØYEN.

In 2020, Jon Erik could be seen in the role of Gus in Harold Pinter's THE DUMB WAITER, and as Kai in BOUND, both produced by Kanon Produksjon in Kristiansand. In the summer of 2020, he and Ina Maria Brekke, wrote and played in the production of Shriek of a bird… based on Vilhelm Krag's authorship. In December 2020, you could hear Kanon Produksjon's pre-Christmas walk GJENKLANG in Kristiansand, where Jon Erik contributed with both concept development and direction, as well as a voice actor. The summer of 2021, SHRIEK OF A BIRD… was back, this time at Posebyhaven in Kristiansand. In september 2022 Jon Erik could be seen in the role Ingvald in the play THE LUCKY SHIP.
In addition to co-writing CHRISMTAS AT WØYEN with Madeleine F. Røseth, Jon Erik also translated the script for BOUND, wrote SCREAMS OF A BIRD… with Ina Maria Brekke, and THE LUCKY SHIP with André.

He also composed the music for THE TERRORISTS, THE DUMB WAITER, GJENKLANG and SCREAMS OF A BIRD…, and composed and arranged music for THE LUCKY SHIP.